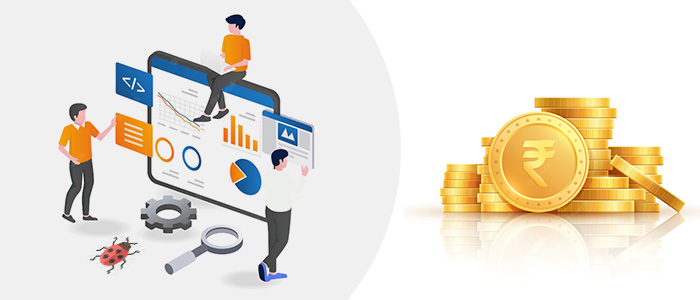 Automation testing has pushed the software testing procedure to a new level of efficiency, allowing for faster testing and quality validation processes than ever before. There are a plethora of fantastic tools available to assist testers in automating the software quality assurance system to accelerate the process. Manual testing, on the other hand, has a certain amount of power that cannot be ignored. The most effective QA Companies continue to utilize human quality assurance in conjunction with automation to provide the highest possible level of software quality.
Manual testing is time-consuming, though it's necessary to ensure that the software is of the greatest possible reliability. While the advantages of automated testing, such as accuracy, time savings, reproducibility, and extensibility, human testing is still an important component of any functional testing process. This kind of testing allows for the detection of problems in software programs by the use of logical reasoning, intuition, and conclusions that are only available to people.
When it comes to testing tools, methods, and technical knowledge, Manual testing services provide a one-of-a-kind combination that ensures a faultless product is delivered on time. They undertake full responsibility for end-to-end testing operations, from the creation of a comprehensive test strategy to the provision of post-production assistance.
When You Will Require Manual Testing?
In the period of complete automation, manual testing is believed to be the most basic sort of testing. So, why is it still required in this day and time? First and foremost, manual testing of any program must be completed before any automated testing can be performed. You will not be able to identify if or not automation is feasible until we do manual software testing. Consequently, this form of testing is required throughout the shift from manual testing to automate testing.
To reap the benefits of manual testing and make the testing process as efficient as possible the following should be done:
1. Test from the point of view of the end-users
2. Prior user experience should be taken into consideration
3. To be able to think critically
4. Take into consideration risk assessment
5. Contact with developers and other project stakeholders on a regular basis
6. Test outside the scope of the criteria
How manual testing is effective even today?
A wide range of advantages of manual testing are outlined below:
1. Innovation
The fact that the service has a personal touch ensures that inventiveness is a given. Manual testing allows us to consider effective methods for identifying the most significant problems and issues, and that is something that cannot be achieved by automation.
2. Mobility
It is simple and easy to ramp up or gradually decrease your testing approach according to project requirements if manual testing is included in your entire evaluation process. Take advantage of the unrivalled advantages of being able to customize your testing method.
3. Cost-effectiveness
By using manual testing in conjunction with automated testing, which is both run concurrently in an outsourced delivery model, you may drastically reduce testing expenses while also obtaining greater test coverage.
4. Manual Testing is aware of the issue
Automated testing has the potential to save time over time. Manual testing, on the other hand, helps us to comprehend the issue on a conceptual and emotional level, which is beneficial for acquiring rapid findings on a wide level. It establishes a connection between us and the end-user and provides us with a degree of empathy that automated testing cannot deliver.
5. Bugs are seen in unexpected places
Although testers are trained to seek for certain use cases, they might nonetheless come across defects that they were not specifically looking for. A procedure in which people manually test software to determine is not whether the generated software product satisfies the expectations of the client is known as manual testing.
That's a significant development. Occasionally, the bulk of issues is discovered by testers who were seeking something completely different from the bugs in question. Automated testing is incapable of detecting mistakes that were not planned to be detected.
Bottom Line
Manual quality assurance testing is carried out to find problems in the test software in the areas of acceptability testing and graphical user interface testing. Manual testing services India take full responsibility for all testing efforts, from the development of a test strategy to the provision of post-production assistance. They apply a user-specific testing strategy to ensure that the services continue to provide value enhancement. They guarantee that the business requirements are completely traceable back to the test cases that are defined and performed to ensure comprehensive test coverage.
As a professional manual testing business, they give thorough reports at regular intervals to keep you informed of the status of the testing and any flaws that have been discovered.