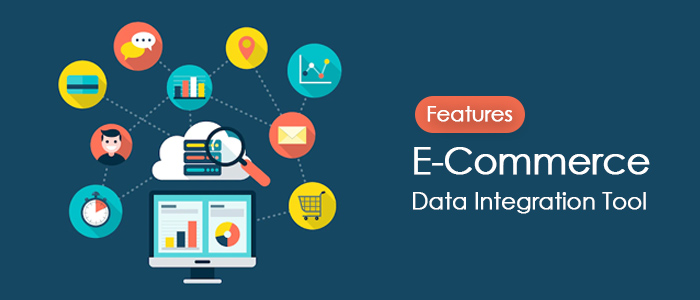 The Internet has changed the way we do business. Many companies worldwide are entirely dependent on various applications to run business smoothly. Hence the integration of various applications becomes necessary for the efficient functioning of the business. Integration of various functions is already in-demand, and the e-commerce industry is no exception. Many of the top eCommerce developers in the USA specialize in data integration tools.
A pivotal step to accelerating the business's growth is the integration of e-commerce into the company website. To automate the data flow between systems, it offers a unified and cohesive operation of e-commerce ecosystems. Additionally, in an omnichannel marketplace, e-commerce integration provides a rich and consistent user experience.
What is an e-commerce data integration tool?
The process of combining data from many sources and bringing them all into one place is commonly known as "data integration". Therefore, data integration in e-commerce refers to gathering e-commerce data from many locations across an organization into a single location, such as a data warehouse.
For instance, a company might utilize an ERP system to keep track of each product's inventory levels. Following implementation of a D2C business model, the company began to operate on an e-commerce platform. To maintain accurate product quantities, they must update the inventory count in their ERP system if even one item is sold.
Without e-commerce and ERP connections, businesses must manually input inventory counts into multiple systems. As a result, e-commerce integration enables the organization to check, maintain, and produce data movement between systems.
The issue is that various locations lack standard communication and information exchange. E-commerce data integration tools are urgently needed as a result, as they take care of the technological complexity on the back end and help firms move their data to a centralized location for more straightforward processing and analysis.
Features of e-commerce data integration tools
1. Customer relationship management (CRM)
Every business's significant function is customer relationship management. CRM with e-commerce integration enables the company to generate leads and keep visitors returning to the website. Customer retention is therefore also vital. According to Forrester Research, acquiring new clients costs five times as much as keeping the ones you already have. The elements that aid client retention includes personalized marketing, online customer service, and efficient shipment alerts.
2. Inventory management
Inventory management is another essential feature of any business. E-commerce businesses also need good inventory management to run the business efficiently. The two main factors that distinguish e-commerce from traditional businesses are the volume of sales and the accessibility of the products through online storefronts. Integrating ERP with e-commerce provides real-time data that aids in maintaining optimal inventory levels.
3. Finance
The main components of e-commerce integration are accounting software and financial management. For the business to propose material reorders and anticipate supply lead times, financial data is essential for process centralization and the creation of successful forecasting models. It implies that the companies will profit from narrow profit margins. The seamless reflection of insights across departments is made possible by integrating e-commerce with QuickBooks and ERP functions.
4. Distribution
Several ecommerce development solution engage with third-party vendors for their distribution. It is also called drop shipping, where a third-party vendor ships the product to the customer whenever a business sells a product online. It enables e-commerce companies to offer a range of products without maintaining large inventory warehouses.
Benefits of e-commerce data integration tool
1. Saves time
Online stores may save a ton of time by integrating e-commerce. It provides them a platform to keep an eye on how the merchandise moves from the warehouse to the client.
2. Creates an omnichannel experience
Integrating e-commerce enables companies to retain an omnichannel presence. Global retail internet sales are anticipated to exceed USD 6.5 trillion by 2023, according to eMarketer's forecast. Therefore, integrating into the online economy has become essential for organizations.
3. Combines all the sales channel
All sales channels are connected through ERP system and e-commerce connectivity. In other words, one system is used to store both sales data and inventory counts. It automates almost all processes and provides real-time information about price and product availability to the company and the client.
4. Maintains security easily
Integration of e-commerce also helps to quickly improve and maintain the security of accounting and customer service.
5. Boosts productivity
Technology reduces the chances of human error. E-commerce integration avoids duplicate errors and frees companies from manually entering data into their systems. All online sales are integrated into the system through the ERP software. It reduces the amount of time needed to complete each order.
6. Vital enhancement in functionality
The website becomes extremely useful for businesses and customers with e-commerce integration. It facilitates the exploration of transactions and features by business professionals. Customers may similarly search for information about their shipments, product availability, etc.
7. Minimises cost
With e-commerce integration, the ERP system automatically updates the corresponding inventory items with information about online sales. Businesses may forecast and plan their inventory purchases after considering data from online sales, which saves money on inventory.
8. Reduces repetition of errors
Online orders, client information, shipment information, and payment methods are all reported with the help of e-commerce integration. ERP system inventory counts for each product can be uploaded to an e-commerce website relatively quickly. Less human engagement during the process means the likelihood of errors is significantly reduced. The company also won't have to carry out unnecessary tasks, which will increase productivity and efficiency.
9. Improved business operations and insights
The QuickBooks e-commerce integration helps create trial balance, cash flow, P/L statements, balance sheets, and general financial statistics on sales. The software-oriented strategy provides enhanced security and clarity throughout business activities.
10. Better control of the business
With e-commerce integration, businesses may better manage CRM, orders, finances, inventory, production, and other capabilities. It allows the firm to run from a particular place and unifies everything under a single system. It increases income and improves corporate communication overall.
11. Enhanced customer satisfaction
Any business's priority is to satisfy its customers. Thanks to e-commerce integration, customers may access the most current product specifications, inventory availability, and order tracking information; this prompt availability raises customer satisfaction.
Conclusion
E-commerce integration tools enable businesses to make more informed decisions based on data. The data-driven decisions make the functions of marketing and customer experience efficient and effective. The company can gather data about its clients' interests and preferences, the popularity of its products, and other factors in one location.
With sufficient insight, they can adjust to consumer behavior patterns and guide the buying path in line with patterns. Consider this a large circle: The more you understand your data, the better your data architecture is set up, and the more you can visualize your data and how it might benefit you.