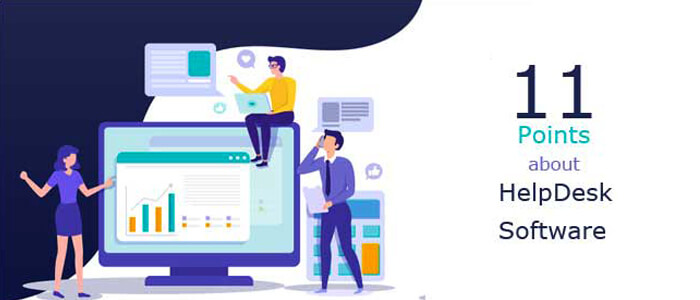 Help Desk is one of the crucial parts that help to provide information and all kind of support to the customers, related to the services and products that company provide.
For any organization or company, the Helpdesk is something that they must have. It helps in solving troubleshoot problems, provide helps as well as guidelines through various options like toll-free numbers, messaging, websites and email. Apart from this, Help Desk is also built inside the office' s building to provide all kind of help and to assist employees or workers.
Know what should you know about Help Desk software?
These days, companies are taking assistance and consultation from different services like Software Consultancy Services to develop their software and applications more user-friendly and accessible. Similarly, choosing right Help Desk software is an important investment. No one wants to waste, time, energy and resources on wrong selection. Every company and every organization have their own kind of requirements and instead of going what others are choosing, You should understand your own company's need and what can fit better without wasting too much money in it.
Here are the most important points that you should know before you go for Helpdesk software option.
Before selecting an option, let's focus on what you really need. Here are all points that you should consider before going through to the selection process.
1. Select between Upgrade or Replace option
Well, lots of the time you don't really need to replace your Help Desk software but again it depends on what are you looking for now. Maybe the old services are not meeting your current needs, or maybe you just need to upgrade some tools. Apart from that, is your current software is going to fit future needs or not? What else you need to know and exactly for what you want to replace your software. These are some points that you should clarify before you start your selection process.
2. What's your exact budget?
There are two options available before buying the software i.e. Free and Demo. However, it will be wise to know how much you are ready to spend and what you want in return. People do have assumptions that the more they pay, the better they will get. However, it's a myth.
3. Do map out the features
Help Desk of any organization is one of those thing which can make it or break it the reputation of the company. It makes the flow of work real smooth and easy, only if the software work fine. Also, it takes care of your customers need and their problems on time. Without that, you going to face lots of trouble as the issues will not dissolve on time that causes abruption to the work and ticket flow of the company.
4. Don't Forget to understand the email compatibility
Check if your help desk software is compatible with your email software. If something gets wrong between two then it can cause lots of hassle. It's important to make sure that your email software is working fine with your help desk software. Help desk software is better to qualify the test run by reputed software testing services you chose to make it compatible to e-mailing system.
5. Database option is crucial to think
Your help desk software is database driven as its one of the primary role of having help desk. It keeps tabs on stuff like a flow of business, data backups, etc. Having such option can do backing up data process much simpler and easier. So, when you are looking for help desk software, make sure to check such features.
6. Don't forget checking the security
The systems like ticketing are used for providing information related to clients. Such information not just contains names and address but also have crucial data which you don't want to disclose to any outsider. So, before anything makes sure your helpdesk is completely secure and safe for such data transfer process.
7. Do personalize the email templates
General templates can make your customer feel like they are not getting the proper attention of yours. Also, for any company, loyalty of the customer is important. Generic response and generic email template actually damage your image in front of your potential customers. So, if you are looking for the email to use in ticket submission then you should work on designing the template of the mail.
8. Understand why Web Interference is important
There are some tools that are based on email and web both kind of ticket submission. Lots of people go for email whereas some find easy to access web-based ticket submission. There are some clients who will not appreciate the idea of submitting a request to anyone. With the help of web interference, they will get the more control on where, how, when and why to submit a request.
9. Don't forget to check ticket management features
Don't say yes until you understand the whole work process of your software. Helpdesk does not only help in managing tickets, reassigning and assigning, resending, closing etc like work, it also handles the control of yours on work. Without getting the assurance of anything, don't decide to have it for your company.
10. Make yourself Brand-oriented
Don't forget to make yourself brand-oriented. Your clients and customers will not going to entertain the idea of not getting the proper response which not consist your logos, URLs and information. Make sure that your email submission and web fonts are branded with your company's name. Apart from that, do provide copyright information, and legal information in case you have to your auto response, it will make it more credible.
11. Go with easy and simple access
Your help desk is not just any part rather it's a crucial segment where you get to know about your customer's problem and complaints. Instead of making that thing hard to understand and to access, go with easy, simple and on point option. Make sure that your tools are working properly before your clients or customer starts using it. Apart from this, make your 'Help' option user-friendly, so anyone can access it from everywhere. In addition, the best bet could be using software testing services before you open it for customers to test the quality of it.
You can find Help desk software anywhere online but first of all search, read or watch some online stuff about it. Some of the important screenshots I like to share with you!

Trusted by Global Clients