Current legacy systems which are considered the backbone for any organization are not Cloud-ready. One of the biggest challenges includes redeveloping and reconnecting legacy applications with new-age Cloud software. Here's what your organization needs to know before moving the legacy application to Cloud to be 2021 ready.
For organizations willing to keep up with technology, there's no point in maintaining the old legacy applications for desktops and local networks. Shifting to Cloud has become a new industry trend as organizations need to scale beyond the on-premises data center capabilities.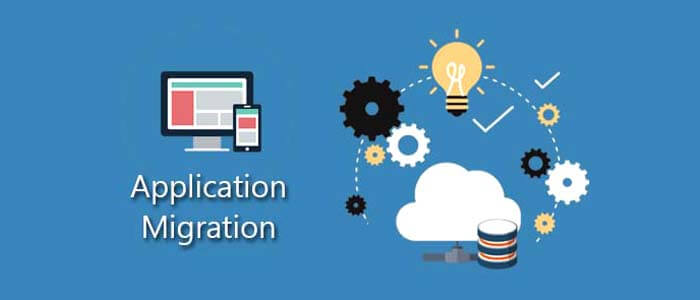 Moreover, existing IT technology and systems might become obsolete in the coming years, and businesses may fail to receive updates and support mandatory to run business operations efficiently.
Cloud computing results in rapid business growth; therefore, it won't be wrong to say that legacy application migration is pivotal for organizations to manage consistent growth and maintain a sound competitive edge.
Challenges Involved in Legacy System Migration
Cloud migration involves many challenges, such as migrating to new infrastructure, choosing a datacentre, training employees about new tech specs, etc. These challenges altogether, and on top of that, the data loss risks make migration to Cloud a daunting task for organizations.
Well daunting or not, this shift is essential.
The biggest challenge during legacy application migration to Cloud isn't technology. It's the people and processes that need change and adaptation. Changing the age-old existing technology, which is the biggest asset for the organization, is quite bothersome. Many believe that migration to Cloud involves time and, hence, influences Cloud adoption effectiveness.
Another challenge for organizations looking to migrate the legacy system to the cloud is to integrate into the hype. Avoid putting up the excess in the Cloud as it will make it difficult for your IT team to manage Cloud infrastructure effectively.
The need to continually modernize the application to meet challenging business environments, mitigating migration risks while lowering operational costs calls for legacy application migration services. However, organizations face several challenges when it comes to application support and maintenance. These risks include:
Successfully meeting high user expectations
Risks associated with data loss, app security
Obsolete IT applications and computing tools
Changing business procedures and guidelines
Fragmented systems that result in poor efficiency
Time and cost involved in implementing new Java Application Development
You can eliminate all these risks by connecting with the best Java Application Development Company, like NEX Softsys. We will help you transform your Legacy business application into a cloud-based application.
All You Need to Know before Migrating to Cloud
Here's what you need to know before migration to make a successful shift to Cloud, keeping in mind the time and budget constraints. You need to proactively anticipate the complete migration process right from concept to completion.
Migration Strategy Matters Most
Shifting to the Cloud requires mapping out an effective migration strategy. Organizations need to take care of 5R's that include Rehost, Refactor, Revise, Rebuild, and Replace.
Cloud Governance Model
Security is the biggest concern for organizations willing to move to Cloud infrastructure; therefore, it's vital to develop a Cloud governance framework with precise and clear policy-based rules.
Train Staff for Smoother Transition
Nothing can be more comforting than having a well-qualified team to adapt to the new Cloud technology. A dedicated set of training sessions will help employees understand Cloud concepts.
Network Design & Management
Developing a scalable Cloud architecture before starting the migration and mapping of vital resources will help boost transition.
Note:
Your organization might require building up a private network (Private Cloud), creating subnets with required IP blocks, defining IP addresses, and set reliable routing between resources. For maintaining functionality, the legacy system components must have the same IP address for connectivity.
Licensing & Migration Costs
License management is crucial for legacy system migration to Cloud and often involves application server licenses, operating system licenses, additional tool licenses, etc.
Automate Repetitive Patterns
Automation of Cloud migration is needed to build a robust infrastructure and automatically move applications without experiencing downtime. Simply put, automation cuts down the risks related to the migration of repeatable patterns and hence reduces the migration time and cost remarkably.
Monitor Process for Better Benefits
In the post-migration stage, the IT teams must review and analyze the system, networks, applications, server, and the audit-logs to gather useful information that helps organizations identifying the scope for generating better revenue.
Support & Maintenance is Mandatory
As mentioned earlier, Cloud migration projects involve enormous challenges, and therefore, organizations need consistent support and maintenance services via an expert Cloud technology partner. Once migration is done, the business will require a skillful support team who is always there to answer the complex technical queries.
How Expert Cloud Migration Expert Can Simplify Cloud Migration
An expert team helps organizations taking result-oriented decisions over Cloud migration solutions and procedures.
Using the latest technologies such as C#, VB.NET, ASP.NET, and SQL databases, the skilled team performs web-enabling of the Legacy systems.
Your expert partner is responsible for offering complete consulting services over the testing, maintenance, quality control during modernization.
Why Should You Partner with Skilled Legacy System Migration Services to Become 2021 Ready?
With an expert technology partner, your organization can reap numerous benefits during Cloud migration.
Solutions designed for easy implementation and integration with existing systems.
Experience better productivity and efficiency.
Reduced operational costs and better productivity.
Greater interoperability to improve business performance.
Years of expertise in legacy systems and modern technology.
Advanced technology stack that offers ease of use, simple maintenance.
Better security, agility, scalability, and flexibility with highly-optimized migration techniques.
Leverage the latest technology powered with search integration and social networking channels.
Minimum human interruption, maximized automation of processes to reduce bugs and errors.
For a successful shift to the Cloud environment, it's equally important to choose the right migration partner as it is to select the right technology stack. Considering the variety of legacy application migration options, organizations require setting up a holistic migration plan for smooth implementation of processes.

Trusted by Global Clients