Problem Statement:
Merging of Account and Contacts are the most common functionalities in D365 which are used to merge duplicate records. A user cannot merge the records without having the correct security permissions granted. Merge permission should be given as depicted in the below screenshot. This is available in the Business Management tab.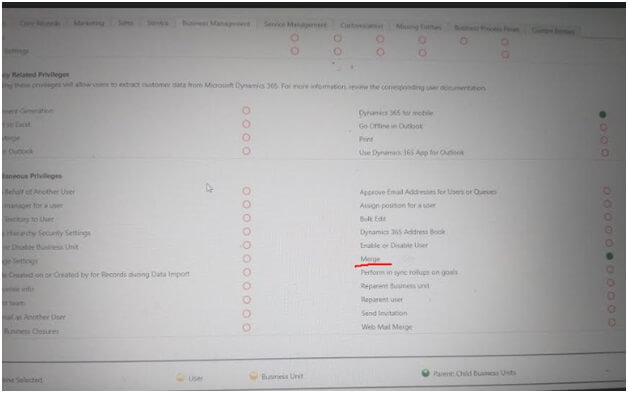 Still, just by granting the Merge permission, the user won't be able to merge the records as there would be little other permission missing which are quite unrelated to merge operation.
User gets the following error:
Insufficient permissions to merge Accounts
Solution Approach:
We need make sure the following permissions are considered:
1. Whenever a user merges the records, the application also checks, that the user has Read and Write permissions on both the records those he is merging. If required permissions are not on any of the records, he won't be able to merge.

To understand this, consider there are 2 Business Units (A and B) in D365 and both account records belong to different business units. Now, if that user who will be merging these 2 records belongs to a Business unit A and he has Read permission on Account entity at Organization Level but at the same time, he should have the Write permission only at Business Unit level, the user won't be able to merge.

2. Apart from the Read/Write permissions, "Share" permission should also be granted on the Organization level as well.
3. Most bizarre permission to be given to the user is Read permission on Opportunity Relationship entity at Organization level. When merging without this permission, user gets an error that doesn't give any clue for the required permissions.
Conclusion:
Just by granting Merge permissions, the user won't be able to merge. He would need proper permissions on Write, Share on the main entity (Account/Contact) and on the Opportunity Relationship entity as well. We are a best Microsoft Dynamics CRM Consultants Company and our team loves to share such guideline so follow us here to get more knowledge.
You may like to read on Microsoft Dynamics 365 CE – Case Deflection in Customer Service Portals with Example