Last year Microsoft came up with Dynamics AX7, making the ERP software cloud first. But that was not the only new feature. It has also tweaked or added a whole new set of features that put the Dynamics at the forefront of ERP solutions in the market today. More importantly, it also shows Microsoft's commitment to its ERP platform.
The new updates allow for better collaboration with integrated application and automation of back office services. It is also scalable, which makes it quite economical. ERP solutions can be quite expensive. So, the choice of paying for what
Some of the new feature in AX7 are:
Cloud-first: AX7 is not just cloud-enabled, it is cloud-first. Built on Microsoft's Azure platform, it gives a business an incredible flexibility of its day-to-day working, data analytics and collaboration. The cloud gives one access to the very useful and plentiful Microsoft's services. Microsoft has also taken some concrete steps to ensure the security and reliability of the cloud.
Not only does it come with uptime guarantees, it also has a stricter security framework in place. The result is a dependable ERP solution that also has the safeguard of multiple security measures. Like Azure the cloud is also built to be completely scalable.
Mobility:
The importance of creating a mobile-enabled ERP service cannot be emphasized enough. Employees may not be carrying pen and paper, but they will surely be carrying their smartphones! Mobiles have become our communication devices, business managers as well as marketplace. Hence, the AX& mobility is of particular note. You can now access Dynamics AX from your tab or smartphone. Microsoft has also ensured that it has excellent portability and remains efficient across different platforms.
The app has three main segments — workspace, pages and actions. You can insert data, edit it and then access it in a usable format. Although you do need to create custom forms in the beginning, the entire process is quite easy and can be carried on without any technical knowledge. The provision of custom forms enables organizations to customize the app according to their purposes.
Better UX:
The fact is that most people are not tech savvy, even when they think they are! They are only amenable to tech nitration when they work on platforms that are easy as breeze and does not require a diploma! This is why the AX7 superior UX (user experience) is so important. Any ERP's success depends on the number of people using it and their commitment to the project.
The easy interface just ensures that more and more people will do so. The cloud-first technology also ensures that there is no tedious installation, frequent updates and backup issues.
The changes reflect not just ease of use. The UX now allows two browsers and access from multiple screens. It can help you manage your own tasks, while allowing collaboration with others.
LCS (Lifecycle Services):
The Lifecycle Services has always been among the Dynamics's most admired commended features. This time Microsoft has improved it by making it more efficient. It is now working towards a more predictable and high quality implementation by bringing simplification and standardization of processes and operations.
The goal here is to streamline and create a near automation in managing an app lifecycle. This is again an Azure-managed platform. It is also meant to foster collaboration by ensuring that different parties can work on it at the same time.
Power BI
The ultimate aim of an ERP solution is to help you make sense of data. This is only possible through some sort of intelligence function. Power BI uses machine learning, AI algorithms and R integration to collate data, analyze it and present it in a format that is instantly understood and actionable.
The AX7 gives one access to the CRM's Power BI through the collaboration of ERP with CRM in the Dynamics. You can connect through the PowerBI.com to integrate the reports, metrics and other data. In return you get a rich visualization of data in the form of graphs, charts etc. This is both easy to read and follow.
In keeping with the dynamism of the platform, the changes in Microsoft Dynamics AX Development Consultants reflect Microsoft's commitment to improve its platform. As a result we get an ERP solution that is faster, more efficient, intelligent, easier and manageable.
Check this infograpics for get better understanding related on Microsoft Dynamics AX7: Packing a Punch in its New Avatar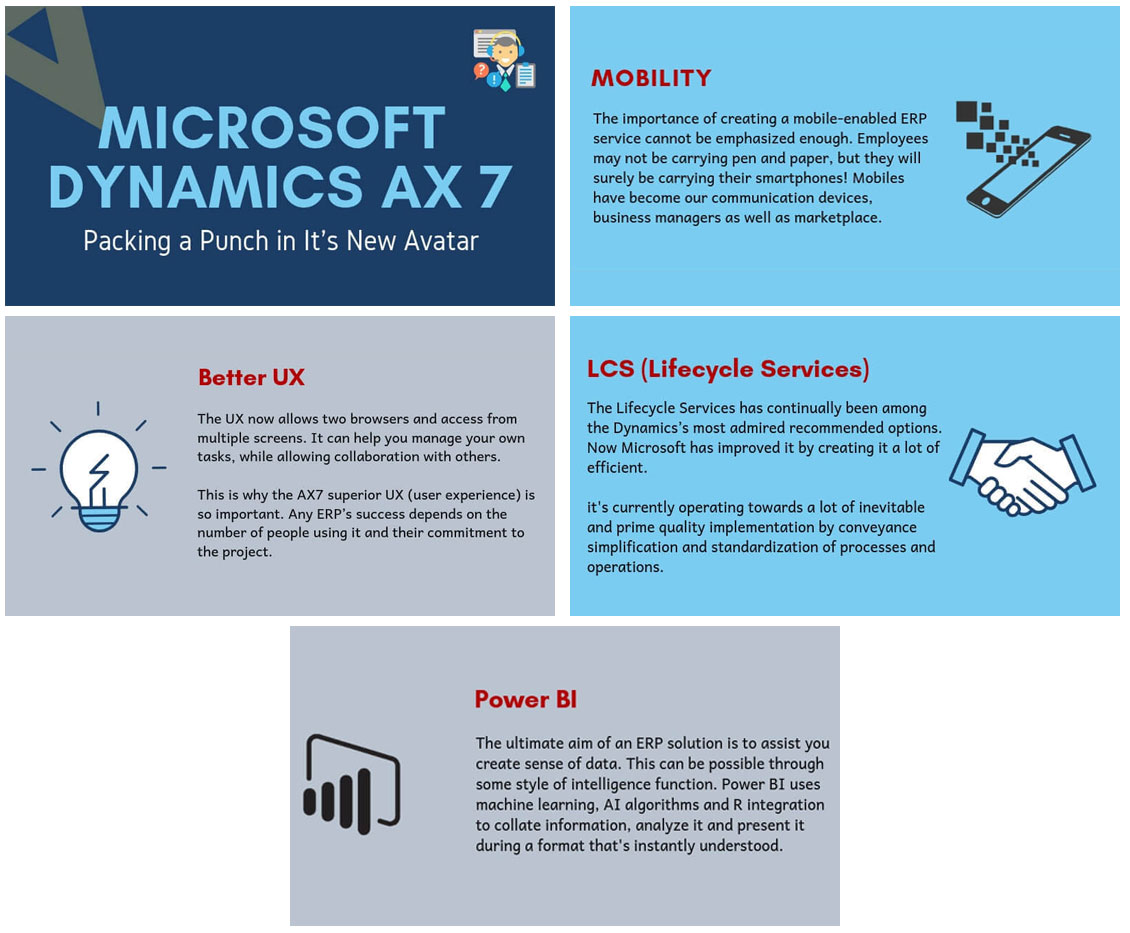 Read More