Development:
Creation of Data Maintenance Setup Form:
I have created two Tables :

AAFTableStoreOperations :TableIDNumber ,TableName(uses enum AAFTableNameOperations where you can add n no. of tables in case you want to extend the functionality other than for operations.)
AAFFieldStoreOperations: FieldName, TableIDNumber, TableName

I have used a Splitter form to create my Data Maintenance Setup Form, which has two tables in the data source:

I have written the following code on the modified method of my Table Name Control.
To get the lookup of Field name on Fieldname Control from the above-selected Table, I have used the following code:
Creation of Operation Maintenance Form:
This form is a dialog Form, and we can create it with the help of the dialog class. Following are the created methods and code behind it: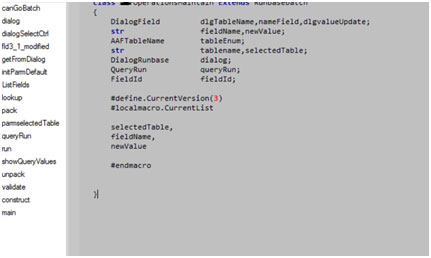 I am attaching the code below for this class: