Upcoming Conferences for Software Testing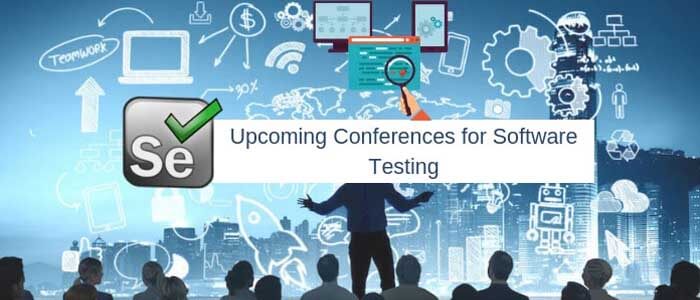 This time, in October, there are 4 such conferences are going to be organized and they are
SeleniumConf
STAR Canada
EuroSTAR Software Testing Conference
Agile Testing & BDD eXchange
1. SeleniumConf:
SeleniumConf is coming to Chicago (USA) for a two-day conference on 18th and 19th of October 2018 preceded by a one-day workshop on 17th of October. This conference is organized for Selenium test automation professionals by Sauce Labs and other sponsors. The purpose of this conference is to serve the Selenium software users and testers. Selenium software is an open source testing software for web-based test automation. The conference aims mainly at Selenium issues and bugs, with some additional testing topics and exchange of ideas and experience.
Date: 17, 18, 19 October (Only Workshop on 17 Oct)
Venue: Chicago, Illinois (USA)
2. STAR Canada:
Star Canada is a six-day conference, going to be organized in Toronto (Canada) by TechWell from 15th of October to 20th of October. The conference is being held to serve a purpose of in-depth training, half and full day tutorial, short sessions, and a leadership summit in the field of test automation. The TechWell invites software testers, Test Managers, QA Analysts, Developers, and Test Practitioners to attend this conference and share their ideas and experience.
Date: 15 to 20 October
Venue: Toronto, Ontario (Canada)
3. EuroSTAR Software Testing Conference:
EuroSTAR Software Testing Conference is the most successful and longest-running conferences in the world and being organized since 1993. Every year, a newly opted program committee and the panel of 40 volunteers hold more than 500 presentations and select the best to create a comprehensive program that is aligned with a broad range of subjects and test specifications. Software Testers, Test Consultants, IT managers, and other related professionals are invited to attend the conference.
Date: 12 to 15 November
Venue: The Hague (Netherlands)
4. Agile Testing & BDD eXchange:
The Agile Testing & BDD eXchange conference is a two-day conference going to be held in London (UK). As from the sources, its organizers have said that the conference is going to get a new name and face. Software Testers, Managers, and developers with other professionals can attend this conference for behavior-driven development.
Date: 8 to 9 November
Venue: London (UK)
The software testing looks tiring but the businessmen know that it is an important thing for them and is constantly improving regularly with the help of new technologies. The betterment of testing would not be possible without Artificial Intelligence and automation tools. The purpose of the conferences discussed above is to help professionals updating their knowledge and skills. By visiting such conferences you are able to learn more about software testing from the best QA experts, and Testing Managers.