TRUSTED BY
GLOBAL CLIENTS
Share us your requirements, We'll get back to you soon
With Amazon web services, enterprises break free from the shackles of traditional data warehousing, embracing a new era of possibilities. No longer constrained, you can harness the core advantages of on-demand computing, tapping into vast storage and compute capabilities and seamlessly scaling alongside your burgeoning data volumes. Plus, you pay only for the resources employed.
In the past, traditional data warehousing stood as a formidable roadblock for enterprises worldwide. Building and maintaining a data warehouse was a daunting endeavor fraught with complexity and exorbitant costs. Millions were spent on upfront software and hardware costs, while months were spent on planning, procurement and deployment processes. Once established, the relentless need for a legion of database administrators loomed, tasked with optimizing queries and safeguarding against data loss.
But now, behold the Amazon Web Service data warehouse Difference with the NEX Softsys partnership. AWS presents an extensive array of managed services seamlessly interwoven for your benefit. It enables the swift deployment of end-to-end analytics and data warehousing solutions, catapulting your enterprise into data-driven excellence.
Why AWS Data Warehouse Is the Ideal Choice for Enterprises?
Propel your data strategy beyond the confines of traditional on-premises solutions with AWS.
Advanced Analytics Architecture
Forge data solutions that transcend time, architecting the future with state-of-the-art analytics architecture.
Unparalleled Technology Choices
Explore a rich tapestry of data warehousing technologies intricately woven into this dynamic architecture, empowering you with unprecedented flexibility.
Amazon Redshift Brilliance
Plunge into the depths of Amazon Redshift, where innovation knows no bounds. Unearth its distinctive features that redefine data warehousing excellence.

We Deliver AWS Data Warehousing Solutions Across
USA | Canada | UK | Germany | France | Singapore | Italy |
Israel | Australia | Japan | Netherlands | Sweden | Switzerland | Norway
Comprehensive AWS Data Warehouse Services
NEX Softsys - AWS Data Warehousing Services Expertise
Your data is in the hands of true AWS data warehousing experts, ready to unlock its full potential. In the vast expanse of the universe, we are guiding stars with deep understanding to navigate AWS data warehousing solutions and its complexities. We are not just users but a master of the craft. We have delved deep into the AWS, forging a path that leads to optimized solutions.
Crafting intelligent data hubs with Amazon Redshift and Snowflake for efficient data handling.
Seamlessly merging diverse data sources with AWS Glue and Data Pipeline.
Fine-tuning data warehouses for lightning-fast query results using Amazon Redshift Spectrum and Athena.
Implementing access controls, encryption, and vigilant monitoring to safeguard data.
Effortlessly scaling data warehouses with Amazon Aurora and DynamoDB.
Leveraging AWS Kinesis for immediate data streaming and insights.
Optimizing costs with data lifecycle management and Smart storage choices.
Seamlessly connecting with AWS analytics and machine learning tools.
Ensuring continuous availability with round-the-clock maintenance.
Staying ahead with pioneering AWS data warehousing technologies and techniques.
Scalable AWS Data Warehouse Solutions
As reliable AWS consulting partners, we know how to leverage AWS data warehouse solutions for your business growth. We don't just understand AWS data warehousing; we thrive in it. Our expertise extends to selecting the right AWS services for your data processing requirements, seamlessly migrating intricate data warehouse applications to the AWS environment, and crafting optimized AWS data warehousing solutions.
We specialize in fine-tuning database performance, ensuring your data warehouse operates at peak efficiency. From query optimization to indexing, we've got your database covered.
Security is not an afterthought; it is at the core of our solutions. We prioritize data security and compliance, protecting your information every step of the way.
Data ingestion is where it all begins. With our know-how, we establish robust data ingestion mechanisms, ensuring your data flows seamlessly into your AWS data warehouse.
Real-time analytics is not a challenge; it's an opportunity. We empower you to harness real-time insights, making your decision-making faster and Smarter.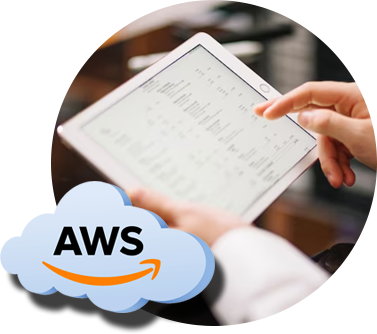 Prominent AWS Cloud Consulting Company
Empowering Your Cloud Aspirations, Beyond the Horizon
At NEX Softsys, we are at the forefront of technological advancement. As a top AWS cloud consulting company, we leverage the dynamic capabilities of AWS data warehousing to transform the landscape of application deployment and management. Our approach is not only unique, it is a game-changer, redefining how we handle applications and services for efficiency and scalability. In collaboration with AWS, brings the power of machine learning services within your reach.
Fully-managed AWS Development Services
Our mission is to equip you with the skills to efficiently handle and store large volumes of data using AWS's powerful tools and architecture.
AWS Consulting Services
Our seasoned experts are your guiding stars in the cloud. We understand your unique needs and offer technical consultation that spans the entire cloud development landscape. From deployment strategies to migration tactics and optimization maneuvers, our pragmatic approach reduces resource demands while elevating the performance of your AWS environment.
Optimization
Efficiency is the cornerstone of our AWS development philosophy. We meticulously fine-tune applications and infrastructure deployments, ensuring they align seamlessly with your goals.
Application Development Services
In the dynamic world of mobile and web applications, agility is key. Our skilled full-stack development team architects flexible solutions that stand the test of time.
Cloud Migration Services
Embark on a migration journey that knows no boundaries. We collaborate closely with you to chart the ideal path, whether you're migrating from on-premise setups or seamlessly transitioning between cloud platforms.
Cloud Managed Services
Effortlessly navigate the complexities of AWS Cloud infrastructure management with our support. We enhance efficiency, boost ROI, and unlock scalability, allowing your business to flourish.
Business Intelligence & Analytics
Harness the AWS cloud environment's potential to craft custom reporting and data visualization solutions tailored to your unique business requirements.
Unlock Cloud Potential with Our Amazon AWS Consulting
We transcend boundaries with AWS consulting services, providing bespoke solutions that redefine cloud computing. As an AWS partner, our expertise spans cloud consulting, app development, migration, deployment, optimization, BI, analytics, and managed services. Our AWS-certified team eliminates common pitfalls, delivering tailored solutions aligning with your unique requirements. From serverless architecture to legacy app modernization, we fuel innovation across industries, turning your cloud aspirations into reality. Explore the limitless potential of your cloud future with us.
What Sets Us Apart From Other AWS Consulting Companies?
With AWS Cloud accreditations and AWS Certifications, we bring unparalleled expertise to every project, ensuring you make the most of AWS data warehousing.
Our strategic approach to AWS consulting services leverages the full potential of the AWS platform for successful cloud transformation, driving business growth.
We prioritize your unique needs, delivering tailored solutions that enhance quality, performance, and security so you achieve your business goals.
Our dedicated team of AWS experts provides round-the-clock support, allowing you to focus on productivity and ROI while we handle your server-related workloads.
As an AWS Advanced Consulting Partner and AWS DynamoDB Competency holder, we've consistently delivered outstanding results for satisfied clients worldwide.
Our multinational presence, partnerships with Tier III & IV Data Centers, and industry-leading certifications ensure top-tier service delivery across the globe.