TRUSTED BY
GLOBAL CLIENTS
Share us your requirements, We'll get back to you soon
NEX Softsys offers world-class Java Struts framework development services with innovative solutions that enhance enterprise productivity and collaboration. With our deep expertise in Java and Struts, we deliver enterprise-level web applications that are robust, scalable, and tailored to meet your business objectives.
Our proficient engineers adhere to industry best practices, ensuring high-quality development, integration, and customization services. We make your Java solutions portable and scalable, empowering your organization with a stable and efficient platform for both desktop and mobile applications.
Capabilities of Java Struts Framework Development
Java Struts web framework development simplifies application maintenance, promotes code reusability, and efficiently handles form data, validation, and errors.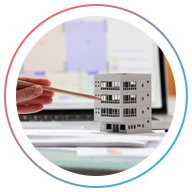 MVC Architecture
Struts framework services adopts the Model-View-Controller pattern, ensuring clear separation between model, view, and controller components. It streamlines enterprise application development, testing, and maintenance.
Java Expertise
Struts leverages Java and extensively uses Java API, making it an ideal choice for enterprises with proficient Java development teams. It allows organizations to capitalize on their existing Java expertise, resulting in a smoother adoption of the Struts framework.
Open Source And Community Support
As an open-source framework supported by the Apache Software Foundation, Struts grants enterprises access to its source code. This openness allows for customization based on specific requirements. Additionally, an active Struts community provides ongoing support, bug fixes, and regular updates, ensuring a reliable framework for enterprise applications.
Swift Development
With its rich collection of reusable components and features, Struts enables rapid application development. It simplifies tasks like form data handling, input validation and user session management. By reducing repetitive coding, developers can focus on the core application logic, leading to faster development cycles.

We Deliver Java Struts Web Development Services Across
USA | Canada | UK | Germany | France | Singapore | Italy |
Israel | Australia | Japan | Netherlands | Sweden | Switzerland | Norway
Choose Our Premier Java Struts Web Development Company
NEX Softsys, as a premier Java Struts development company, delivers top-notch solutions with creativity and precision. With a focus on offshore software development and outsourced IT solutions, we specialize in providing dedicated Struts development services to diverse industries. Powered by a brilliant team and cutting-edge technology, we thrive on solving complex challenges with innovative thinking.
As a trusted leader in India, we excel in developing robust Java Enterprise Edition Web Applications using Struts, following the model-view-controller (MVC) architecture. Our passion for excellence drives us to create exceptional web applications for desktop and mobile platforms.
Our Expert Java Struts Framework Development Services
At our company, we combine our extensive Java Struts expertise with innovative solutions to deliver exceptional results for your business.
Struts Web Application Development
We create robust and user-friendly web applications using the Struts framework, tailored to meet your specific business needs.
Full-Stack Struts Development Services
Our expert developers handle the entire stack of Struts development, from front-end UI design to back-end database integration.
Struts Integration And Migration
We seamlessly integrate existing systems or migrate legacy applications to Struts, ensuring compatibility and enhanced performance.
Java Struts Web Development Services
We develop secure and efficient web APIs using Struts, enabling seamless communication between multiple software components.
Struts CMS Development
We build a custom content management system using Struts, empowering you to manage and update your website content efficiently.
Database Design And Enhancement
Our experts optimize your database design, ensuring efficient storage, retrieval, and performance for your Struts applications.
Struts Administration And Expansion
We handle the administration and expansion of your Struts applications, enabling seamless scalability and future growth.
Struts Maintenance And Support
We Ensure the smooth functioning of your Struts applications with our reliable maintenance and 24/7 technical support services. Our dedicated team provides ongoing support, bug fixes, and enhancements to keep your Struts projects up-to-date.
What Makes Us The Leading Struts Development Solutions Provider?
Collaborate with us, the leading Java Struts solution provider, to leverage our expertise and create exceptional web applications that drive your business forward.
Extensive Industry Experience
With over a decade of experience in Java Struts development, we bring deep industry knowledge and expertise to every project.
Customized Web Applications
Our team creates modern and elegant web applications using Java Struts tailored to your unique business requirements.
Agile Development Process
We follow an agile development approach, ensuring quick iterations, transparent communication, and on-time project delivery.
Dedicated Java Struts developers
Our highly skilled developers specialize in Struts, delivering top-notch, visually appealing solutions that are easy to use.
Comprehensive Support
We offer 24/7 technical support and maintenance for all the applications we build on the Struts framework, ensuring continuous functionality.
Client-Centric Approach
We prioritize your success and work closely with you to understand your goals, providing customized solutions that exceed your expectations.